Yesterday I was super duper lucky, lucky enough to promote my esthetics business as well as the new salon I'm working at, on tv! Mady (the esthetician I'm sharing a treatment room with) and I prepped for the camera, discussing what we would say and who would say it.
Look at my gorgeous models! They are all such good friends and all did so well. Plus I got to hang out w them for a few hours! It was a win win.
touching up before we go on the air// hanging out back stage// almost our turn// on-air!
Kelsey and I after the show.
Oh you know, just hanging out on tv.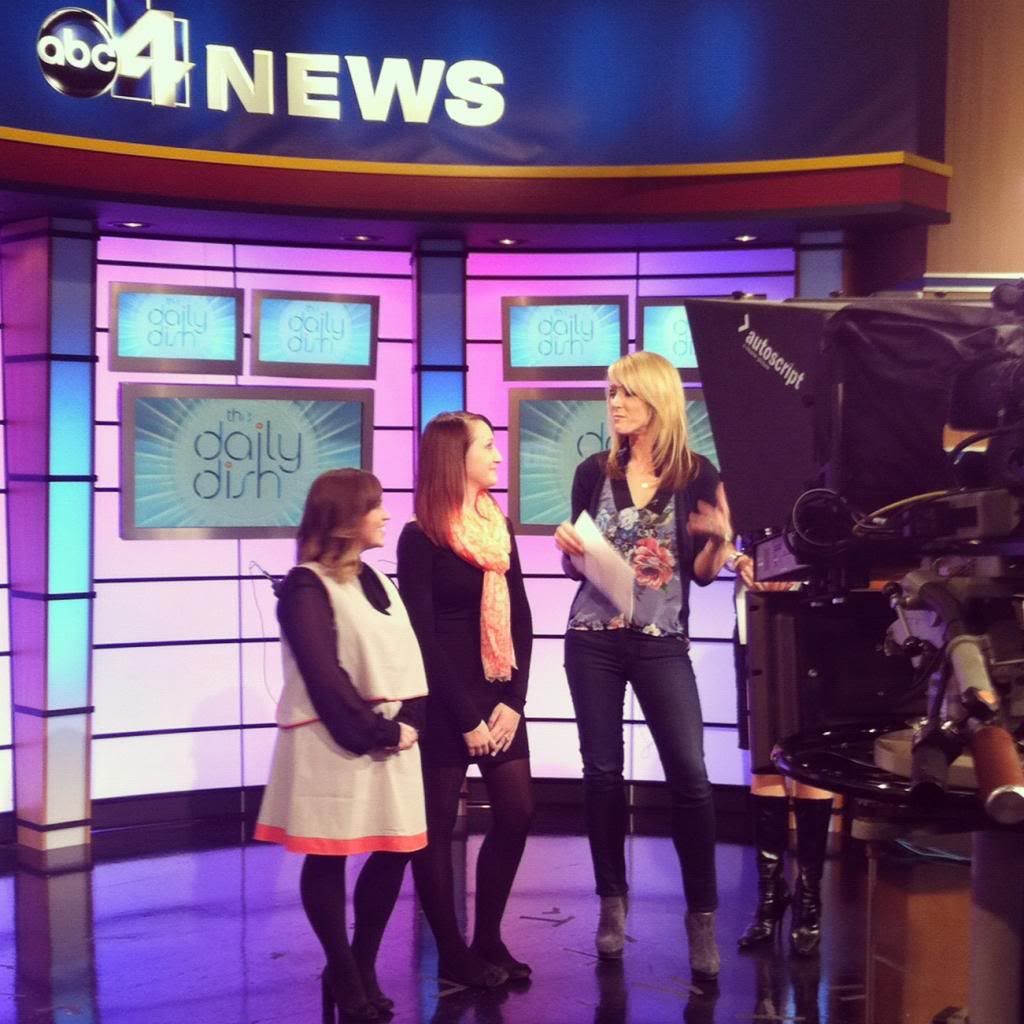 It was an absolute BLAAAST and I can't wait to do it again!
What pictures and video won't tell you:
I scheduled each of the models 1/2 hr apart. Giving me plenty of time to get their on-air makeup done (it's more than day to day). But that meant I had to be at my salon at 5am to do Aly's makeup. I am no good at waking up before 7 these days and was woken up at 5:40, thanks to Mady's call. In a rush I did my hair and drove as fast as I dared to the salon. I was supposed to car pool with Aly, so I called her as I was driving to the salon (bad example! I know), but she didn't answer... I called probably 10 times, still no answer. So I just moved on, and tried not to stress.
I got there at 6:20 (an hour and a half after I was supposed to fyi) and whipped out 4 makeup applications- including mine. None of which were tv ready makeup. I had to just let it go, because it was time to head to the tv studio. Just before it was time to leave, Aly made it to the salon! Whew! So off we went, to the studio.
We got there right on time and I had plenty of time to do Aly's makeup. Thank goodness for Mady who helped touch up the makeup and get the girls started when I was late. I know it wouldn't have happened without her.
After all the makeup was done and we had time to sit and think about what we were going to do, we started getting nervous. Those who have known me my whole life know that I am a shaker. When I get nervous, I shake like crazy, and this situation was no different. Hands trembling, lips quivering, I was so worried that's how I was going to be on-air! But somehow, my old performing skills (developed through years of dancing) kicked in and I was just fine! In fact, I had a blast and wanted to go again! haha!
So "next" time, I don't think I'll be as nervous, and I'll set my alarm to go off 15 times instead of 10...