I had just washed my hair and didn't have time to dry it, so I just pinned it all up. This is what it looked like when I took it out. haha!
1. Describe your perfect day.
Sleep in, take my time getting ready, go on an adventure with a few of my bffs.
2.What was something that you were afraid of as a child?
the blob... Seriously, this thing freaked me out as a child.
3. What's something you're afraid of today?
too many things. Um, spiders for one thing...
4. Would you rather be obsessed with yourself or someone else?
If I'm obsessed with myself, at least I'm not exactly harming anyone else...
5. What is a favorite restaurant that you could visit over and over and never get sick of?
Zupas. Zupas. Zupas!! Yuuuuuuuuum.
6. What is one food you used to hate but now enjoy?
Mustard. And recently, mushrooms.
7. Fill in the blank: Star ________.
Star Fairies. Anyone else ever see this movie? My sister and I loved this movie!
now it's your turn!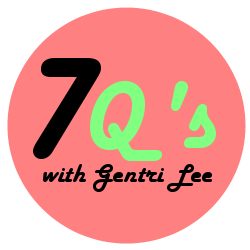 Next Week's Q's
1. Who is your celebrity doppelganger?
2. What's the farthest you've ever been from home?
3. Fill in the blank: Fall ______.
4. Would you rather have arms so long they touched the ground or feet the same length as your legs?
5. What is the first thing you do in the morning?
6. Apple Cider or Hot Chocolate?
7. Would you rather start your life over (baby) or jump to the end of it (old-->death)?