This is me with my good friends Sarah and JoEllen. I look terrified.... and kind of like Voldemort.
1. Do you ever have reoccurring dreams?
Nope. But when I'm stressed all of my dreams are scary... so I guess that makes them nightmares.
2. It's the first day of Fall (or Spring for you southern hemispherers) in a few days, what are you looking forward to most?
Psh! the question is- what am I NOT looking forward to! Ok, I am most looking forward to graduating (officially on Friday) and visiting my parents in Portland immediately after! Oh, and Halloween Oreos. Cause yes, they taste better than the regular kind.
3. Because a lack of coordination, would you rather not be able to tie your shoes or cut your own food?
Tie my own shoes, for sure. There is always velcro... or slip ons.
4. Would you rather live in a house made entirely of glass or a house with no windows?
A house with no windows. I know, weird. But I'd hate to know that people could be looking in from any side... and I'd probably always be breaking my walls or something.
5. Would you rather walk on you toes or heels forever?
Toes. I'm a dancer. Heels would look weird.
6. What's your favorite sense? (you have 5 btw)
Sight. This world is amazing and I'm lucky to see it. Smell is a close second, but if I couldn't smell, then I couldn't taste, and so I'd probably eat healthier, because what's the point of eating junk you can't enjoy?
7. What's your favorite movie quote of all time?
"I'm asking ya with my brain!" 1000 points to whoever knows where that's from. I don't know why it's a favorite. But no one ever knows what it's from and it's probably my favorite part of that movie (even though it's not a favorite movie of mine). ps- just said the word "favorite" way too much.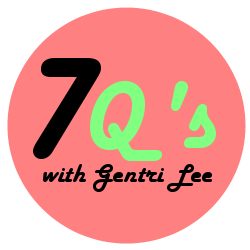 Next Week's Q's
1. Describe your perfect day.
2.What was something that you were afraid of as a child?
3. What's something you're afraid of today?
4. Would you rather be obsessed with yourself or someone else?
5. What is a favorite restaurant that you could visit over and over and never get sick of?
6. What is one food you used to hate but now enjoy?
7. Fill in the blank: Star ________.