I'm constantly amazed by the variety in color here. Within a short walk I stepped on white rock, red dirt, and black sand. Speckled with greenery and bordered by the blue sky- it makes for a painting that no man could create.
Shay and I had gone out for a hike Saturday night, and once again, I found myself wandering among the rocks, no trail in sight.
I kind of like it that way. Aimlessly exploring and discovering hidden treasures.
I love taking pictures of the scenery. I like remembering where I've been and I think nature is so incredible, I love capturing it. Shay said she doesn't care for those and would prefer people in every pic. So, get ready for Shaylynn overload...
Shay's never been known to sit down on a hike, so I had to snap a picture of that rare moment.
#nottrue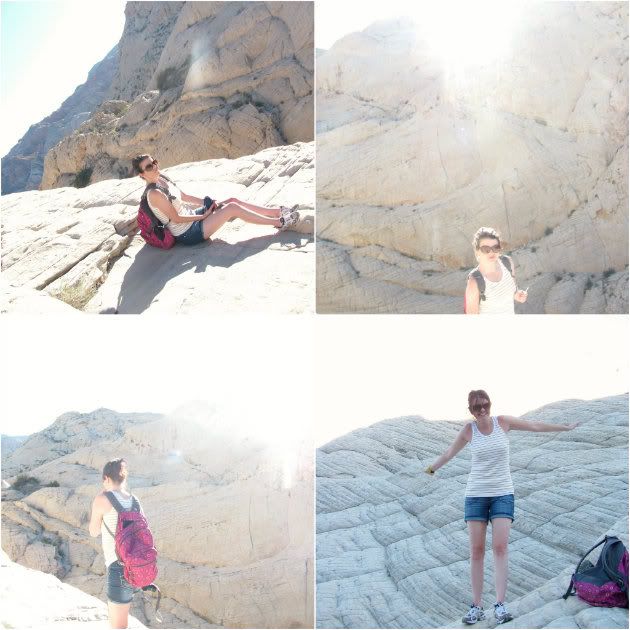 She found many "love" rocks (rocks she felt were shaped like hearts. Go shay.), discovered a new species (after looking up "fluffy white bug" we realized it had already been discovered #fail), and saw I saw lots of cute little jack rabbits!
Since we had no trail we decided to walk along this... I think we decided it was a "Mysterious Ravine"...
She reeeeeaaaaalllyyyyyy loves to hike.
As much as I miss the lush mountains in the north, I do have a spot in my heart just for the red rocks of the south.
And then we hitchhiked our way home.
Kidding. But we did have to walk back to my car along the highway since we had wandered so far from the trail- oh wait, there wasn't one. Trail or not- it was such a fun way to spend my evening!