It's finally here! I'm so excited to see everyone's post and to share with all of you what a wonderful and fun project this was.
First- a HUGE thank you to kaitlyn and kristy. This project SERIOUSLY wouldn't have happened again without them. You guys are the best!
The blogger I was sending something good to was Laura from Betula'Loo. While searching her blog I learned that she loves knitting, baking, riding her bike, blue/ turquoise, and traveling/ reading travel books.
So I picked her up some Utah travel books and maps that she can read and then use for craft projects.
Indian Fry Bread Mix- I'm not sure what it is exactly, but I loved the bag and thought it was pretty fun and a good representation of where I live.
Some vintage knitting magazines.
Some turquoise arrowheads and a turquoise dream catcher.
Some Rocky Mountain Chocolate Factory Spring Fudge.
Some of my favorite chocolate toffees.
A necklace with an old fashioned bicycle charm.
And a blue knit scarf.
I loved wrapping them up all pretty. I was able to reuse some wrapping from things I've recently received in the mail. I hope she liked everything. From our emails, she seemed to love them! At least the chocolates, anyways. ;)
I was so excited to open my mailbox and find my mystery parcel! Mine came from California from the lovely Donaville (isn't that the coolest name?) of Dearest Nature. Everything was so beautiful and a lot of it handmade.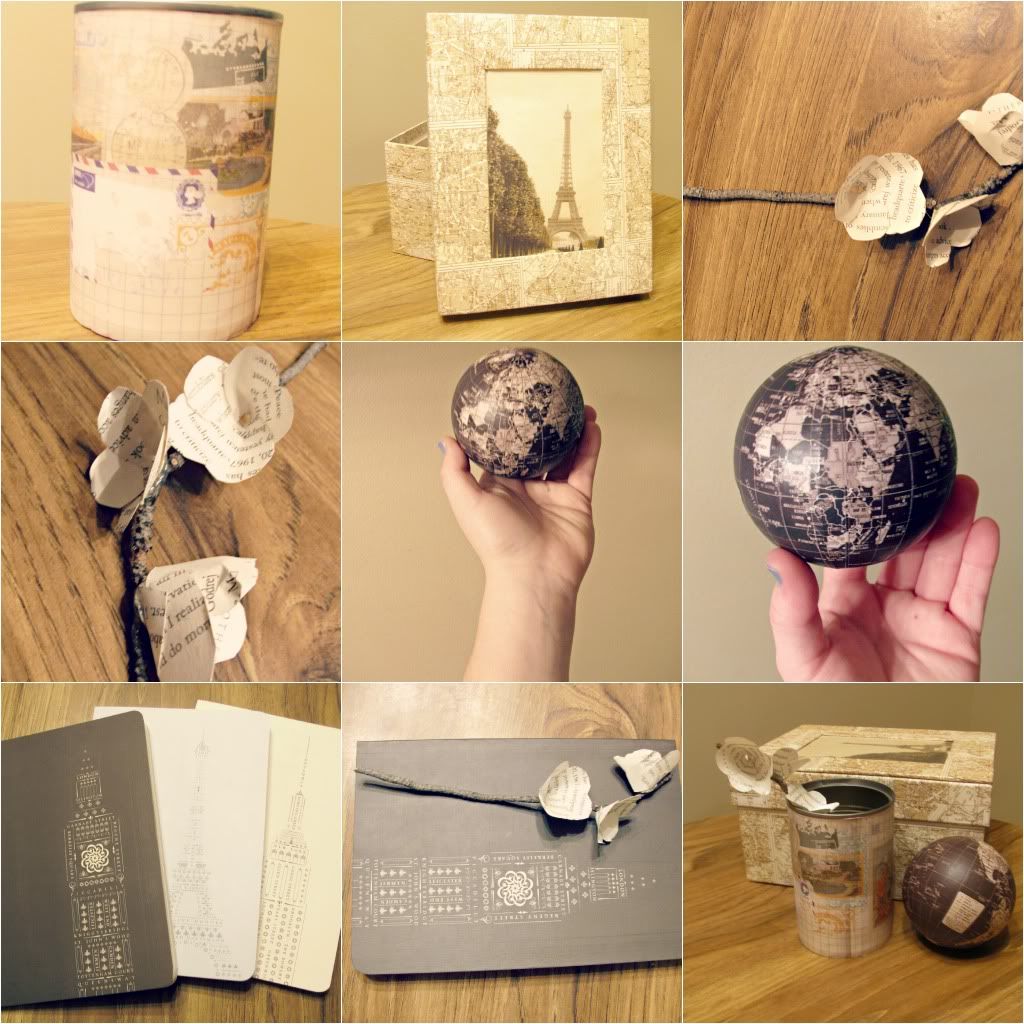 A re-purposed tin can to use for flowers, utensils, or treasures.
A beautiful box.
One of my favorites was the stick with the paper flowers. It's so beautiful.
Three journals. One with Big Ben, one with the Eiffel Tower, and one with the Empire State Building.
And the coolest little handmade globe.
I'm seriously in love with this. I need ideas on how to display it though. Anyone??
It was such a fun round of Package Pals/ Send Something Good! And we definitely have some improvements and ideas for possible future rounds (hint...possible hint). I loved getting to know Laura AND Donaville. I wouldn't have found their blogs for who knows how long otherwise. This project is about so much more than just the presents, it's about the new connections we make all around the world. Connections that may have never happened without it.
Excited to read everyone else's posts!