I hope you're all having a good start to your week. :) Today I'm going to share with you some amazing products. These beauties were sent to me by the lovely Nichelle of Vintage Wanna Bee. Not only are they oh so pretty but the quality is superb!
I've worn this twice already and received multiple compliments each time. I think this one's my favorite. :)
These necklaces are SO cute! I haven't worn them yet, but I'm super excited to!
Look how cute they are on the back!
This flower is absolutely beautiful! It's perfect, really.
the headband. But not only will I be wearing this as a headband, but also as a collar of sorts.
I suggest you all check out her SHOP immediately and take 25% off your order using the code "GENTRI"!!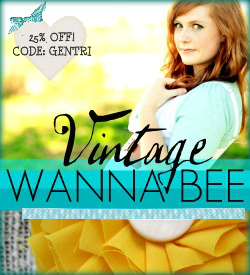 You may have noticed that new little button on my left sidebar. Well, I've got some things I finally decided to part with up for sale. Some are really nice pieces and some are not as exciting. But they're all for sale! So check it out if you have a second!