Happy Tuesday every one!
So I've made it safe and sound to my new home, I'm all settled in, and today I start my classes (so nervous!). I was so lucky to have my family and friends help me move and take care of me. I'm so grateful for all they've done for me. I cried all weekend.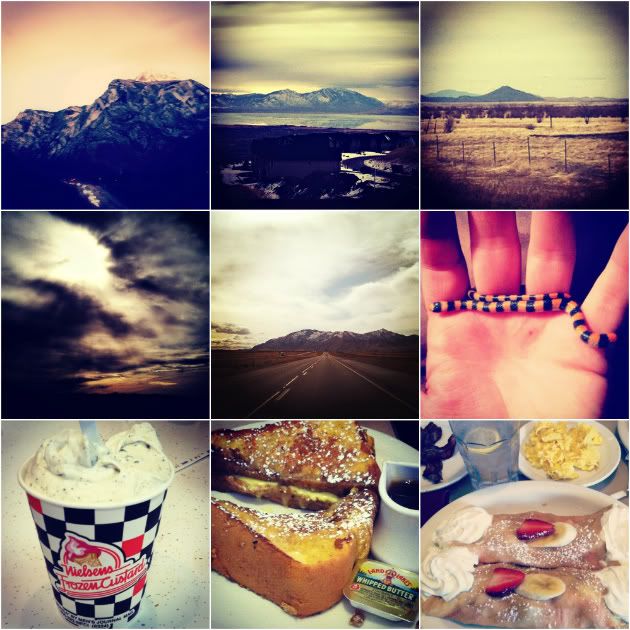 1.
I'm going to miss that view back home.
2.
and that view
3.
The mountain that looks like a volcano... but isn't.
4.
Sun rays
5.
Driving
6.
Holding a baby snake!
7.
Eating Frozen Custard as requested by
Stephanie
. SO GOOD! Seriously the creamiest thing I've ever eaten.
8.
Sister's mountainous french toast!
9.
My ginormous crepes! I didn't realize there were half and full orders, and no one said even just a half order would be the size of my face. So when my FULL order AND side of scrambled eggs came out... I died.
10.
Two cousins, Aunt's BF, Aunt
11.
My friend Sierra and I
12.
Friend Sierra, Sister McKenna, Mom, Grandma
So my road trip had a few interesting events. Nothing crazy, but a couple of things that made us laugh...
My car was so stuffed (my dad sure is good at packing) that my mom and I barely had room in the front seats and looked pretty silly. We came to a light that was about to turn yellow so I so stupidly sped up to make it in time, only to realize a little to late that I would be going over some railroad tracks followed by a sharp dip in the road... Well, that led to us flying and bouncing through that intersection like a... something... picture two ladies stuffed in the front seat of a small SUV that is overflowing (literally) with items bouncing through an intersection... you'll laugh.
When we brought my mattress up to my new room I noticed a burn on it. I know for a fact that wasn't there before. I couldn't think of anything that could possibly burn my mattress! As we all debated this mystery, my cousin, being the 15 year old genius that he is, suggested that the light on the ceiling of my car had burned it...
oooooooooh...
So when you move, and there is so much stuff that you have to leave your back window open, make sure you turn your light off... or it could burn your mattress...
I'm lucky my battery didn't die since it sat that way for two nights, or that a fire didn't start. Wow.
I will be back tomorrow to let you know how my first day of classes went!
Have a great day!!
*UPDATE*
So I am having car trouble... awesome. Last night two different lights came on but I don't have a manual so I don't know what they mean, and my car started seizing up. I was luck to get over to the side of the road. After I put it in park it was ok and the lights went off. I was also able to make it home... but I have strict instructions not to drive it until I get it checked out... Thank goodness for great roommates who will take me to my first day of school and an aunt who's house I can walk to afterwards. :P
It's funny because as I was talking to my dad on the phone about it I was laying on my bed with a nose bleed... and my toilet is clogged (TMI? We're all friends here, right?). Bad things come in 3's right (unless you count my mattress... then it's 4's)? I should be good from here on out... RIGHT?!!