Hey guys! Happy Thursday! Aaaaand Happy December 1st! What?! I am pretty sure I just wrote the post about November 1st- yesterday... Who is speeding up time?! Seriously, stop it!
Well, since It's now December and "officially" Winter (I know it's not really official until Dec 21st or whatever. But I like to go by month.) I thought I'd share my Winter to-do list! Remember my
Fall to-do list
?? Pretty sure I accomplished everything on that list. :) So, I thought I'd keep up the good work and go for a Winter to-do list. ESPECIALLY since Winter is my least favorite season. It's too cold, lasts too long, and the snow?? Only OK until Valentines Day. So hopefully this list will help me enjoy the winter a little bit more.
Here we go...
1. Go Snowshoeing (I'm planning a trip that may kill me... wish me luck...)
2. Go Ice Skating (going Friday!)
3. Build a Snowman
4. Go enjoy the festivities Downtown
5. See the Nutcracker Ballet (taking my sister as part of her Christmas gift. We're a family of dancers and she's NEVER seen it! It's a crime, really.)
6. Attend a Holiday Party that I have to dress up fancy for
7. Take a Sleigh Ride (horse drawn- of course)
8. Make either Sugar Cookies, Ginger Bread Cookies, or a Ginger Bread House
Next- Rach from Family Ever After is hosting an
Ugly Sweater Party
on her blog. I couldn't resist entering this lovely gem.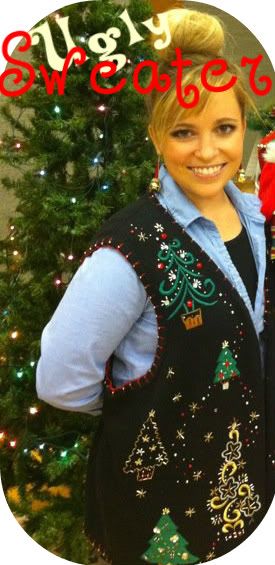 And yes, those are bell earrings, yes I was that blonde, yes this picture is slightly awkward. What picture of an ugly Christmas sweater isn't though?
We also have another winner to announce! Thanks to all who entered the TJLundin&Co. giveaway! The winner iiiiiiissssss....
Memory (is that right?? I had to do some blog stalking to find it...) from her blog
Lowercase Letters!!
Congrats lady! Email me asap so I can get you in contact with Tiffany!
P.S. Don't forget to enter the
Rolled Up Pretty Giveaway!
P.P.S. I am guest posting over at
Eclectic Snapshots
today for Amanda's Birthday! Check it!