Hey guuuuuyssss!! I hope you all enjoyed Package Pals! It was super fun! I am so happy to have worked with all of those girls! If you would like to view all of the package pal posts you can find them HERE. :) I promise I'll announce when the next round will be- SOON! If you already know you'd like to participate you can email me at packagepals(at)gmail(dot)com!
Oh! And if you're interested in sponsoring Gentri Lee for the month of December- email me at gentrileeblog(at)gmail(dot)com. You can find all of my sponsor info HERE. :)
Today I'm going to show you all how to make your very own snow globe! Hooray! I've always loved snow globes and thought it'd be fun to make my own. :) This took LOTS of trial and error. But I finally did it! Here we go...
First you'll need:
Mason Jars
Liquid Glycerin (this helps the snow fall slower)
Distilled Water
Fake Snow
Hot Glue
Your Choice of Figures
Optional- I found rocks (in the pet section at wal-mart. I figured they'd be nicer than ones from the yard) so that my figures would stand taller.
All of these things can be found at your local grocery store. (I did have to go to Hobby Lobby for the trees. But I'm sure as it gets closer to Christmas they'll be easier to find)
Step One- Hot glue your scene to the bottom of the Mason Jar lid and let it dry.
Be sure to fit your scene on the inside of the rim. It won't fit otherwise. Also be sure to measure the height of your scene to fit in the jars you've selected.
I decided to go with a woodland animal theme. I love them. :)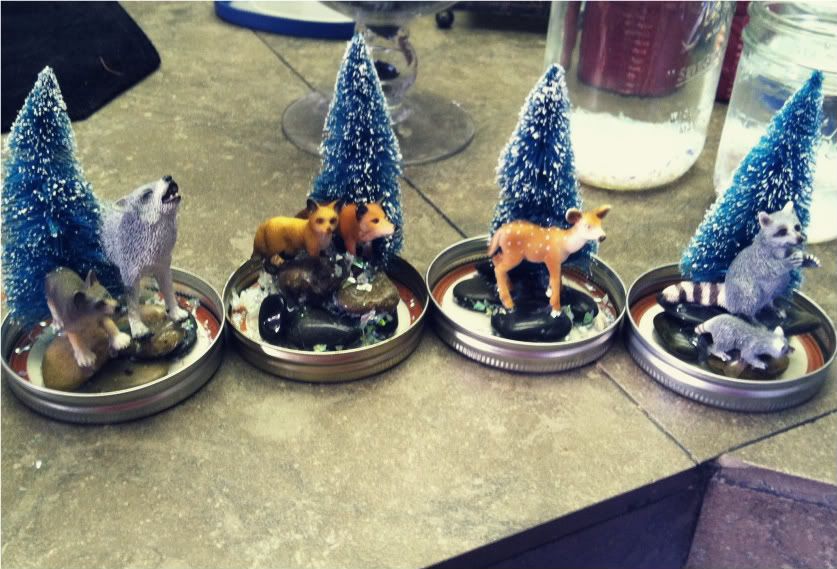 Step Two- Place one to two tablespoons of snow and a dash of liquid glycerin in the bottom of the Mason Jar.
Step Three- Fill the Mason Jar with the distilled water. You'll want it pretty full but remember that your scene will take up space as well.
Step Four- Place the lid (with the scene) onto the mason jar and screw the lid on TIGHTLY.
then
ENJOY!
*NOTE* the snow may float at first. But the longer it sits in the water the more it will sink to the bottom.:)