Happy Tuesday everyone. Today I'm going to share with you a product from one of my sponsors- Courtney who blogs over at Lil Noodle Bug. She's got a wonderful Etsy shop where she sells handmade accessories and decor. She was so sweet and sent me this mustard flower and I couldn't wait to wear it! I made sure that my outfit on Sunday would match.
Not only is this flower beautiful, but it's excellent quality.
*note* eyes watering + flushed face= it was cold!
Plus, there are also SO many ways to wear it! I wore it clipped on my belt to church, but I will also be wearing it in my hair, pinned as a brooch, or even clipped onto my purse! I would definitely recommend this to all of you! She also takes custom orders!
A few of you asked to see a full shot of my skirt that I showed only a piece of the other day. Well, this is for you. I can't believe I am doing somewhat of an outfit post on my own blog. Yikes... haha!
I am absolutely in love with this skirt! I'm so glad I snatched it up when I had the chance because they are all sold out now! Whew! The print is stunning and so colorful!
*note* this skirt was originally almost $400!! WHAT?! Yup. I DID NOT pay that. haha!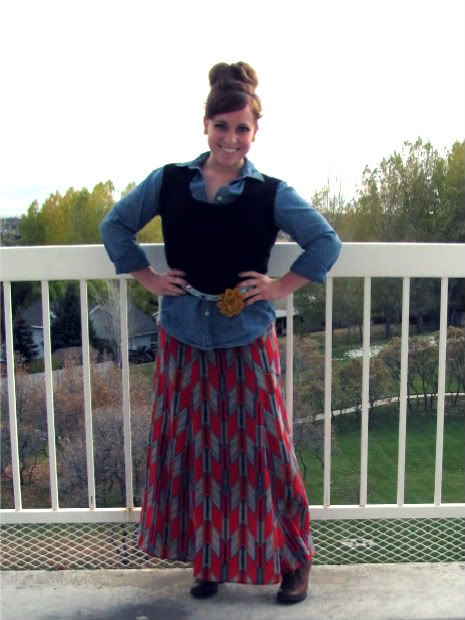 Sorry for the quality of the pictures. That's what happens when there's no one around who will (or is willing) to take pictures for you, it's freezing and you need to hurry, and you don't have a tripod or photoshop. *shrugs shoulders*
Oh! And Courtney (lil noodle bug) is helping to head a charity called ThanksUSA. It serves a crucial purpose by assisting family members of military personnel who risk their lives for the USA. A few bloggers and businesses have donated items for auction to raise money for ThanksUSA. Please check it out and see if there's anything you'd like to bid on or purchase! It's a great way to help give back to those who serve us everyday. (you can also donate directly by using the widget on my left sidebar.
Over there
<-----