Hey Utah Bloggers!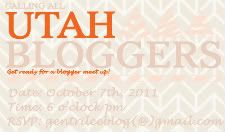 Are you coming to the blogger meet up? Yes?? Well then I need an official RSVP!! If you've already emailed me well guess what, I need you to do it again. Want to know why? Because we have made the decision on location and will be charging a small entrance fee instead of providing anything ourselves. Honestly, I am so much happier with this decision, and I know you will be too! So if you are planning on coming PUHLEASE email me an official RSVP and I will be sending you an invoice via paypal so we can pay the venue. :) That way there's no worries and we all just show up and have fun! And trust me, we are going to have SO MUCH FUN!!
OH!!! Important! We've changed the time!!
It will now be held from 5-7
! So make sure you clear your schedules!! Because this is the most important thing you could possibly be doing at that time. ;)
We've also had some AWESOME businesses contribute to our party with coupons, giveaway prizes, etc! So go ahead, check em out, and give em some loooove!
***
If you have yet to check out
Kaitlyn's
(our Package Consultant) post on how to send your package, you might just want to check that out. because it's INCREEEEEEDIBLE! Seriously. And if that doesn't give you ideas, I don't know what will. :)
See...
So ya, You better get over there now!
CLICK HERE!
I also edited the Package Pal Button Code. So now it links to all posts labeled "Package Pals". You don't have to, but if you want to switch your button out for the new code, that'd be great. :)
Hmmmm... I think that's everything for today... :) If you didn't get a looong enough post from this you can check out my guest post that was published yesterday at
Vintch
or the one that was posted on Friday at
And Here's To You, Mrs. Robinson

.
Have a great Tuesday everyone!