Hey guys! I hope you're having a wonderful weekend! I am so excited to show you scenes from our Utah Blogger Meet Up today! I seriously had SUCH a fun night. It was so great to meet all of these wonderful ladies. I feel so lucky to have had this opportunity.
We had the party at THE cutest boutique in town. They provided us with sweet little treats and drinks as well as a beautiful atmosphere.
We all had so much fun just hanging out and talking, the time flew right on by. Before we knew it, it was time to leave. Well, some of us just weren't through. So we headed out for some dinner. We spent another few hours there and when they closed we stood out in the rain and talked for another half an hour or so. Can you tell we were having fun? (pretty sure we scared some of the other guests during dinner with our vibrant conversations... whoops.)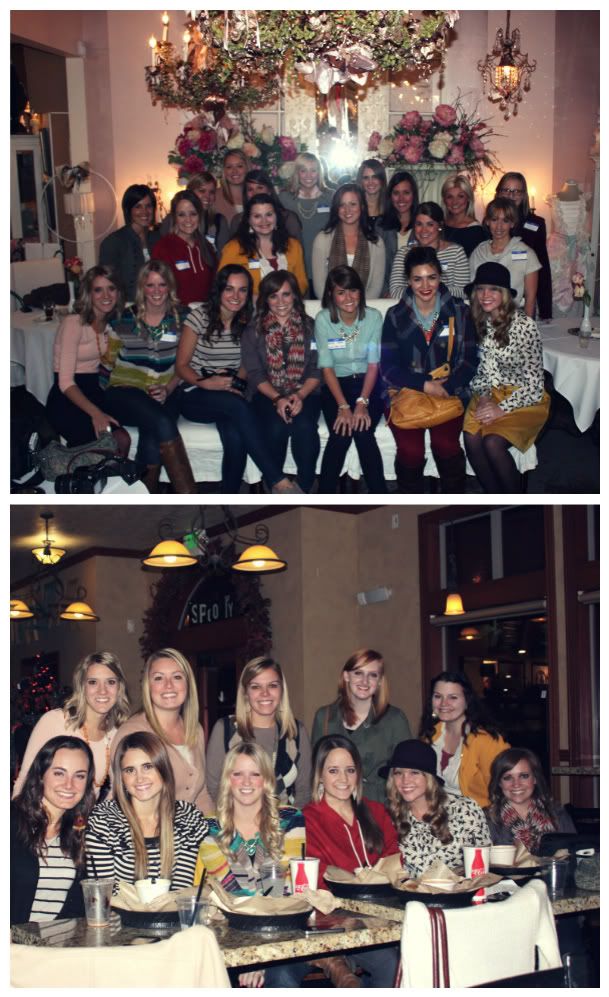 Here are the brains behind the operation. Minus Miss Ashley W. who came down with the flu the day before our party!! I was so sad. Her and I will be going to dinner next week to try and make up for it.
(me, ashley, kelsey)
I really hope that I am able to meet these ladies again in the future. They're so amazing and I had so much fun getting to know them even better. :)
Now, I suggest you all go out and meet the lovely bloggers in your area! We're obviously all meant to be friends.
Thank you Kelsey and Autumn for letting me steal your photos! Haha! And thank you to all the bloggers who were in attendance! You really made the night what it was- awesome. :)
Ally; Alycia; Ashley; Autumn; Hayley; Holly; Jen; Katie; Katrina; Kaycie; Kelsey A.; Kelsey C.; Kelsey S.; Kylee; Lauren; Megan; Meredith; Rachel; Sarah; Savannah;
P.S. So many "K" names! I didn't even realize!