It's finally starting to feel like Halloween time! I'm super excited! I've been contemplating what to be for Halloween. While I'm not a serious partier, I fully intend on making it to at least one party- costume and all. Last year my sister and I were hobos and it was AWESOME!
I really loved that costume. It's tempting to just be that again. But I'm attempting to broaden my horizons. So... What do YOU think I should be for Halloween?? :)
Leave your suggestions in the comments
. If I get enough decent suggestions then we'll have a poll later and as long as it's not too complicated- the winner is what I'll be for Halloween! I can't decide on my own anyways. :)
***
I've already watched my two favorite Halloween shows, and plan on watching them many more times before the spooky season's over. Ok, so I don't watch true Halloween movies, I like to stay on the "cute" side of Halloween... One of those movies would be
Hocus Pocus
! During the movie my sister and I were commenting back and forth on my status with our favorite quotes. Yes we're ridiculous, and we love it.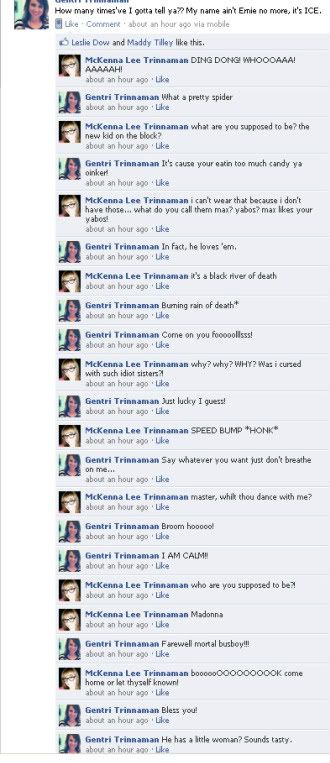 It went on a lot longer than that. But i's all I could fit before the image became to small and hard to read.
And for your viewing pleasure...
So leave your costume suggestions in the comments! And remember that I'm still taking questions for my Q&A post coming soon. :)