Well guess what guys. Not one of you got any of the questions from my giveaways right. Do you know what that means? I get to keep EVERYTHING! MWAHAHAHA!
You guys did AMAZING! It seriously was so much fun! I loved reading all your responses to the answers. :) In case you didn't enter or want to know for sure, here are the answers to each question.
*note* This is a very long post. Hang in there, k?
Question- What year did Alaska become a state and who did the United States buy it from?
Question- Approximately how many lakes does Alaska have?
Bonus Question- What is the Alaska State Sport?
Answer- Dog Mushing! I just love that one. :)
Question- How tall is Denali/ Mt. McKinley?
Answer- Denali stands at a whopping 20,320 ft above sea level making it the highest point in North America!
Bonus Question- What is the closest point between Alaska and Russia?
Answer- Big Diomede (owned by Russia) and Little Diomede (owned by the United States) are only seperated by a tiny little 2 miles. From the actual coasts they are only seperated by something like 50 miles. Crazy.
Question- True or False? Alaska is larger than the next three largest states combined?
Answer- TRUE! So that means if you combined Texas (you guys think you're so big. ha!), California, AND Montana, Alaska would still be bigger.
Question- If you're in the wild and came across a black bear, what should you do? What about a Grizzly?
Answer- Black Bear; Get as big as you can (if you're in a group huddle together) stand on your toes and reach your arms up. Talk to the bear in a low voice. Fight back if it attacks. Grizzlies; play dead. Lay on your belly with your hands on the back of your neck.
Bonus Question- What do you do if you meet a Polar bear?
Answer- Pray. haha! Back away slowly and avoid eye contact. Use deterents but don't run.
Basically any bear can out run any human. DON'T RUN!
No right or wrong answer. :) It was all opinion.
Ok, now for the really exciting stuff! The wiiiinnnnerrrss!
The winner of the first giveaway and recipient of this awesome key chain and button set iiiiissss....
The winner of Giveaway #2 and recipient of this delicious caramel and wildberry jam iiiissss....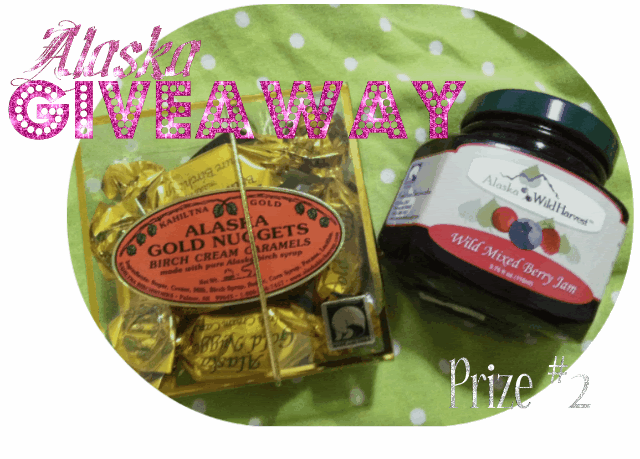 Haley from her blog "Life is Sweet"!!!
(I thought that kind of worked out perfectly. life is SWEET, SWEET prizes? Get it???)
The winner of Giveaway #3 and recipient of these beautiful charms iiissss...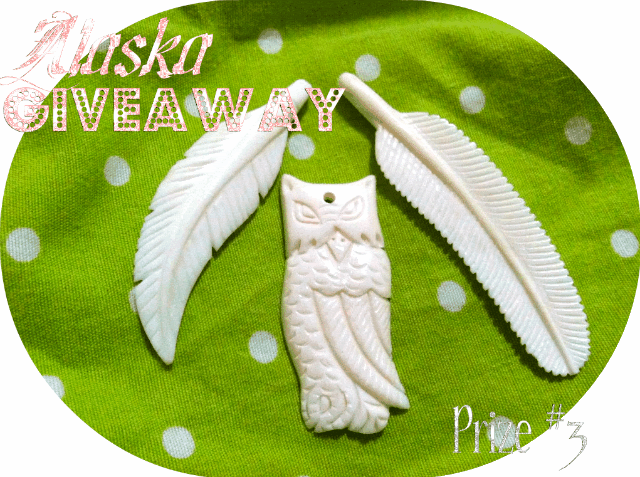 Courtney from her blog "Sew Many Things to Say"!!!
The Giveaway winner of Prize #4 and recipient of these divine soaps isssss....
Alexis from her blog "Alexis Laughs"!!!
The winner of giveaway #5 and recipient of these historical Mammoth Ivory Earrings iiiiisss...
Ashley from her blog "Sloanbook"!!!
And our final giveaway winner and recipient of this whimsical dream catcher iiissss....
Kirsten from her blog "Pure Joy"!!!
Thank you to everyone who participated in any or all of these giveaways. I had so much fun and I hope you did too! I love giveaways but it breaks my heart that not everyone can win... so just know that you're ALL winners in my book (cheesy, but true!) and THANK YOU for being the best followers a girl could ask for. :)
Winners: Email me ASAP!! If I don't hear from you within the next 72 hrs another winner will be drawn!